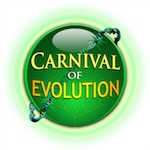 The Carnival of Evolution for January is up at The EEB & Flow, a group blog about ecology and evolutionary biology. Some of the topics covered in this month's posts are:
The Cambrian "explosion"! Was it as rapid as is claimed by some?
Dinosaurs!
Human evolution!
Bat echolocation divergence!
A potential new history of HIV's relationship with human populations!
And, of course, much, much more!
The next CoE, for February, will be hosted by… someone, I'm sure. Make sure you submit your evolution-themed blog posts here anyway, if you are wont to write them.