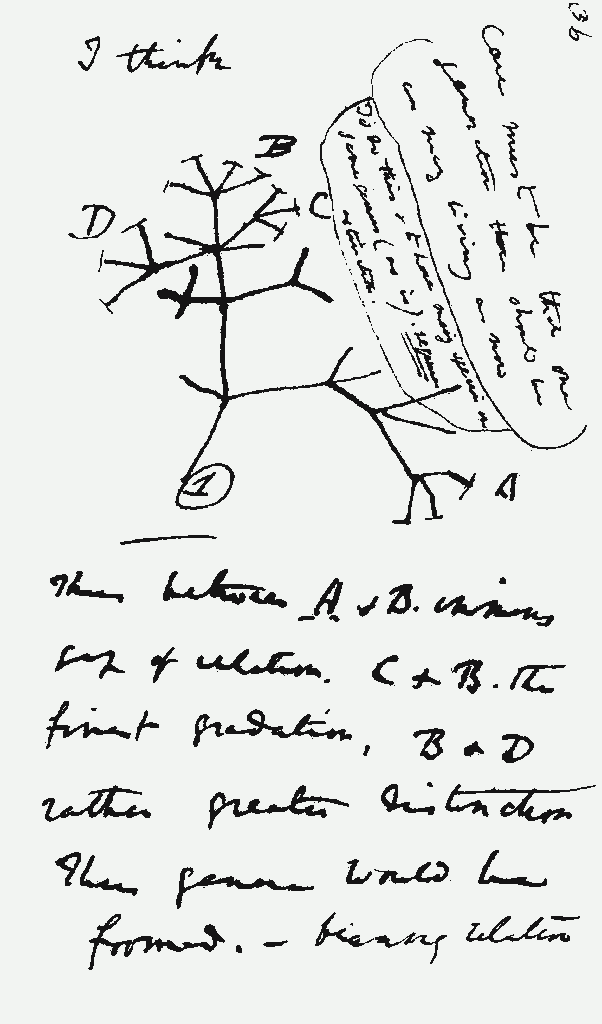 I think

[sketch]

Case must be that one generation then should be as many living as now. To do this & to have many species in same genus (as is) requires extinction.
Thus between A & B immense gap of relation. C & B the finest gradation, B & D rather greater distinction. Thus genera would be formed. — bearing relation[...]
This is page 36 of Charles Darwin's Notebook B: Transmutation of species (1837-1838), and of all of his publications, manuscripts and miscellaneous writings, this single page is, in my opinion, the most beautiful.
It contains a tree diagram, somewhat hastily drawn, showing the evolutionary relationships between four hypothetical species: A, B, C and D. Notes are scrawled in the top right corner, barely legible and on a sharp angle. It has the compressed, rushed feel of a student studying, trying to push information together onto the page so that it might coalesce more clearly in their mind.
So why is it so breathtaking?
This page, written 22 years before the publication of his game-changing On the Origin of Species, contains Darwin's first ever evolutionary tree – and perched above it, tentatively, are two words: "I think".
I think.
The ultimate humble expression of a scientist, one who is to be one of the most influential thinkers of all time, one whose ideas will change the field of biology forever, yet one who is still unsure of his own conclusions. The statement of possibility. The mark of a true scientist.
But some opponents of evolutionary theory like to denigrate the memory of Darwin by painting current evolutionary thought as merely the dogmatic repetition of his ideas, nearly unchanged in the one-and-a-half centuries since they were released into the scientific world. But Charles Darwin was a man. He was not a flawless deity, sent down from some ethereal realm to impart divine knowledge upon the human race, but a person, full of contradictions, of countless thoughts, of passion, of lapses of judgment, of imperfect knowledge. He is celebrated for what he got right, but he is also celebrated for what he got wrong, for what he could have not possibly have known.
Modern evolutionary theory would be unrecognisable to a Darwin resurrected from the grave today. Science has filled in gaps, merged conceptual models and fleshed out corners and implications of his ideas that he would never have thought of. It respects his groundwork and his undeniable intellectual imagination, and demonstrates that respect it by putting his hypotheses to the test and elevating the biological knowledge of the human race past anything thought possible in the 19th century. He is embedded in the fabric of science forever.
As such, the words "Darwinist" and "Darwinism" have little appreciable meaning. Who would describe their preferred viewpoint on evolution to be based solely on the incomplete, albeit brilliant, knowledge and ideas of this genius of a man, when the bigger picture embraces them and expands on them a thousand-fold? Reducing modern evolution to Darwin does away with the very idea he embodied on that lone page of his notebook, that no one has the complete story, that nothing is set in stone. His legacy lives on the daily work of biologists everywhere, conducting their own research, testing their own extensions and additions to his groundwork.
We think, too.
Happy Darwin Day, everyone.