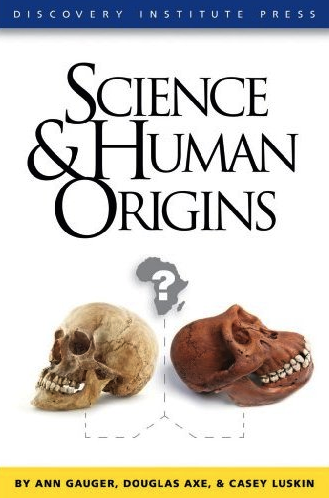 It's not like it needed any extra confirmation, really, but further evidence that the Seattle-based intelligent design think-tank that is the Discovery Institute is actually a stealth traditional creationist organisation is about to be dropped in August, in the form of a new book. "Science and Human Origins" by Discovery Institute regulars Ann Gauger, Douglas Axe and Casey Luskin (and from Discovery Institute Press), according to the book description on Amazon, is set to "…challenge the claim that undirected natural selection is capable of building a human being, critically assess fossil and genetic evidence that human beings share a common ancestor with apes, and debunk recent claims that the human race could not have started from an original couple."
Wow. They couldn't mean… Adam and Eve, could they?
Of course they do. A recent pre-publication review by Spectrum Magazine, a Seventh-day Adventist journal, makes clear what is otherwise actually rather obvious:
Chapter three talks about human origins and the fossil record and Chapter 5 discusses whether population genetics proves that there could not have been a literal Adam and Eve (only two humans) at some point in time.
It's strange, you know, because intelligent design, a supposedly secular, scientific hypothesis, doesn't have anything to do with confirming the Biblical narrative of humanity springing from the necessarily incestuous beginnings that is Adam and Eve. (Think of the inbreeding coefficients! Boggles the mind.) So why is the Discovery Institute publishing books defending it? I'm not sure what excuse Luskin et al. have up their sleeves, but it doesn't really matter now, does it? The damage is done.
Then again, scientists and ID critics have known for years that the Discovery Institute is more than a little religiously charged. The Wedge Document, the ubiquitous association of ID proponents and theological institutions and conferences, their non-stop attacks on materialism, naturalism and atheism – the list goes on – are out there for all to see.
Even in a less-than-ideal world, this should be the nail in the coffin, but this coffin is now more metal than wood and the corpse inside just won't stop shouting.