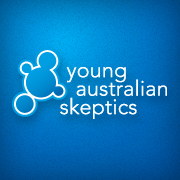 So, it's pretty much official: I'll be taking the reins of the Young Australian Skeptics for the foreseeable future, while founder Elliot Birch concentrates on other projects. I've already been organising and editing its podcast, The Pseudo Scientists, for a considerable amount of time, so it's not much of an extra workload for me.
Or is it?
Because, you know, I like to make things harder for myself, I've decided to revamp the blog that the YAS has been based around for over three years. While previously it was (and still will be, for a little while) an "open community blog" – meaning one to which absolutely anyone can submit an article or a post, going through only a minor editing phase by administrators – it's become clear that this model isn't, well, the most effective one we could have implemented. It was good in theory, but not in practice.
Instead of the open model, we'll be shifting to a closed group model, wherein only members of a team of dedicated writers will be able to post (with potential for occasional guest posts, of course) – similar to blogs like Skepchick and The Heresy Club. This will hopefully lead to a thriving community of debate, communication, education and outreach in the areas of science, skepticism, philosophy and religion and how they impact on the young people of Australia today.
Part of this change of course involves redesigning the blog itself, but far more important is the recruitment of passionate and opinionated writers. I've been putting the call out on Twitter, Facebook and on The Pseudo Scientists for expressions of interest in becoming part of the YAS writing team for a couple of weeks and there's been a pretty good response, but we could always do with more!
So, if you're a young1 Australian skeptic/atheist/agnostic/freethinker/humanist/science lover who loves to communicate ideas, challenge preconceived notions, engage in spirited discussions and infect others (in a good way!) with critical thinking skills, then we'd love to hear from you. 
Send all expressions of interest to youngausskeptics(at)gmail(dot)com or the Young Australian Skeptics contact form. Replies with more details about the blog revamp will be sent out in the very near future.
And if you're too old, not Australian, too busy to write for the blog, or for whatever reason aren't interested in becoming a part of what I'm sure will be an amazing group of writers, please share this with as many people as you can. Word of mouth really helps spread things like this, and any help at all would be greatly appreciated. Thanks!
- - - - - - - - -
While we don't have a definitive minimum/maximum age in mind, 15 to 30 years of age is probably good enough for the moment. ↩