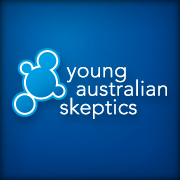 This is all very exciting – the Young Australian Skeptics blog is being relaunched in late August, with your truly at the helm as Head Editor. With a new writing team, a new design and a new focus, we're looking to breathe new life into the contributions of young people into the online skeptical movement.
In the near future, this blog will endeavour to fill an important niche in communicating scientific ideas, critical thinking and engagement with social and political issues relating to science, religion and education: presenting the views of young people, a demographic currently underrepresented in serious online conversations.

We're aiming to strike a healthy mix of opinion, news, science communication pieces, personal writing and entertainment – and we'll certainly have the team to do it! From high school students to young professionals, the new writing team will be filled with people from diverse backgrounds and with unique perspectives on a wide range of issues.

By fostering discussion, communication and debate around science, skepticism, religion, critical thinking and their impact on Australian society and the rest of the world, the Young Australian Skeptics will bring the next generation to the foreground.
 I'll make sure to keep you all informed!