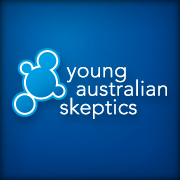 A little under 12 hours ago, the Young Australian Skeptics blog relaunched with a gorgeous new website, new articles, and a new writing team, all under the direction of yours truly, its new head editor! There's a dedicated podcast page now, which is fantastic, as well as a page about the YAS's book, which was also sorely needed.  I spent over six feverish months working on recreating the site with my good friends Catherine and Joel, and it's great to see the site finally out there for the Internet public to enjoy!
Here's the spiel from the About page:
The Young Australian Skeptics is a group blog run by a team of young science communicators, students and professionals, focused on the crossroads of science and critical thinking with religion, education, technology, politics, medicine, law and wider society  —  in essence, scientific skepticism and its cultural impact.

With opinion pieces, educational articles, news, satire, entertainment and personal writing, we aim to challenge conventional thinking about the place for young people in serious and substantive online conversation and provide a place where young voices can be heard and their perspectives discussed. All in an Australian context, of course.

The Young Australian Skeptics was founded by Elliot Birch in 2008 as an experimental community-​​style blog, and was relaunched as its current incarnation in 2012 by Jack Scanlan. It currently has a 16-​​member writing team, 4 of whom also serve as editors and site administrators. Other writers occasionally contribute guest articles.

It has spawned The Pseudo Scientists, its popular weekly podcast featuring some of the blog's Melbourne-​​based writers and editors, and The Skeptical Blog Anthology, a print collection of reader-​​nominated online articles and essays edited by Kylie Sturgess, featuring many prominent skeptical figures, such as astronomer and former JREF President Phil Plait, The Skeptic's Guide to the Universe's Evan Bernstein and Skeptic Magazine's Daniel Loxton.

To contact the Young Australian Skeptics, please visit our Contact page.
Make sure you check the site out!
Of course, my work isn't over. As head editor, I'll be constantly overseeing the site, which includes checking new articles (at least until the writers learn their way around the backend of the blog) and comment moderation. I'll also have to write articles myself! Sadly, this means I'll have very little time to write for ol' Homologous Legs - at least with my "usual" ID/evolution stuff, which will probably be moving to the YAS, considering it's all very relevant to science communication and skepticism. Anything I write here will probably be a bit more personal-ish, perhaps? Non-science related? I've had a few interesting thoughts about the concept of gender recently that I'll need to get out eventually. Stuff like that, you know.
S0, this blog's going to be quiet-ish for a while. But it's not like it was super-busy recently anyway, right?