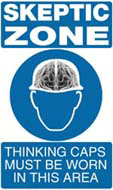 Yep, I mentioned it a while ago, but it's finally up. Jason, Elliot and I (of the Young Australian Skeptics) were interviewed by Kylie Sturgess for the Skeptic Zone podcast about being young in the skeptical movement, blogging as a communicative medium and our own experiences in the wild world of podcasting. It was a fun interview to do, as we all know Kylie, so we had a few laughs. Skepticism can do with a bit of youthful humour sometimes, can't it?
If you're an impatient person, here's the direct link to the episode, but you can also subscribe to their podcast through iTunes and download it that way. Don't forget to check out their website as well – perhaps consider donating to either the podcast and/or the Skeptic's Guide to the Universe fund to help pay for their trip for TAM Australia in November. Both are good causes.
After you've had a listen, tell me what you thought of it. I don't do many interviews (if I did, I'd certainly tell you about them), so I'm always conscious about how I sound.
Podcast: Play in new window | Download